Physical therapy can be a somewhat intimidating experience. We're here to assuage some of those fears and help you to feel as comfortable as possible prior to your first visit at the Fit Stop.
Answers to additional questions can be found by visiting our FAQ page. Click here.
What to expect in physical therapy
Treatment begins with a physical therapist evaluating your condition, identifying the source(s) of your discomfort or dysfunction, and developing a custom treatment program for your condition. Usually this involves some form of manual therapy (massage, joint mobilization, etc) and exercise prescription.  If appropriate, your therapist will also recommend modalities to help control pain. Examples of physical therapy modalities include hot packs, cold packs, TENS (Transcutaneous Electrical Nerve Stimulation), ultrasound, cervical/lumbar traction, electrical stimulation, intermittent compression pumps, and myofascial release (massage). You can expect to receive verbal instructions and written information for an exercise program, education on body mechanics and measures to prevent further injury or re-injury.  While a patient at Fit Stop, we offer you a discounted membership at any of our gyms. Upon completion of physical therapy you have to option to continue your gym membership at a discounted rate; this also includes personal training!
Appointments and Hours of Operation
Appointments are made by our front office staff. Our staff will make every effort to schedule appointments that are convenient with your schedule. Extended hours are available to accommodate patients with special circumstances who may need to be seen outside of our regular business hours. Please click the clinic links below to see hours of operation and contact information for each individual clinic:
Heber City hours and appointments
Downtown Salt Lake hours and appointments
Farmington hours and appointments
First Visit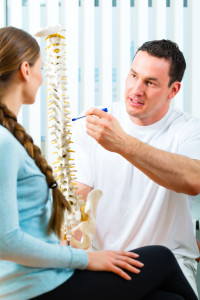 Your first visit will involve some paperwork so please plan to arrive approximately 20 minutes prior to your appointment time. Please bring with you a doctors referral/prescription (if you have one), your insurance card (if applicable), relevant information regarding your medical history and the nature of your disability. You should also wear comfortable clothes as your treatment will require ease of movement and mobility.
Duration and Completion
Duration and completion of your physical therapy program will depend upon your condition, your body's ability to heal, and your commitment to following the prescribed treatment program. Although the average treatment period is 4-6 weeks, after your evaluation your physical therapist can provide an approximation of the time required and reasonable expectations for your treatments.
Our state-of-the art facilities
During your therapy treatment you will have free access to the health club. Physical therapy patients and their spouse get full access to our fitness centers during their rehabilitation. This allows our patients to accelerate their therapy results. Special membership rates and access to our "After Care Program" are available upon completion of treatment. Utilization of this complimentary membership allows you to:
•    Reduce your number of insurance visits
•    Save money on co-payments
•    Accomplish your rehabilitative goals faster
•    Achieve greater independence and overall wellness
•    Begin a life-long commitment to a better quality of life.
Click here to read more about our locations in world-class health centers
Meet Your Patient Representative

We understand that you will still likely have questions that aren't answered on this website. Sometime during your first visit or soon after you will meet Evelyn TerraNova, our patient representative. Evelyn's job is to provide you with anything you need for a successful outcome to your treatment.  She will help you get answers any questions you might have including medical questions and concerns, insurance coverage, scheduling, etc.  To set up an appointment at Fit Stop Physical Therapy or if you have any questions, please call Evelyn at 435-654-5607 or use the "Contact Us" form found on this website.
Additional Benefits
Some of the additional benefits we provide to our patients at Fit Stop Physical Therapy include:
    •    Collaboration with Doctors and Trainers
•    We feel that we are better physical therapists because of our collaboration with both doctors and personal trainers. Communication with other professionals helps us to provide the best possible service and care to our patients. Working with both referring doctors as well as trainers trainers can help us to better understand our patients' medical and training histories. Doctors may provide additional help identifying the multiple systems affected by an injury or impairment. They can also offer additional medical options and solutions. Personal trainers are valuable because they have the education and experience to carry out an after-therapy fitness program that will keep you healthy and safe. This can reduce future medical care costs and help you to stay independent in your activities
•    We offer complimentary childcare on location for patients with small children. Please let us know if you will need this service when you make your appointment. We want to do our best to accommodate your needs and child care hours are limited.
    •   Home Health solutions and In-Home Therapy
•    Fit Stop therapists cover much of Summit and Wasatch County with in-home therapy providing services through local home health companies. Often patients will see the same therapist at the Heber Valley clinic as they do with their at home visits.
    •    PEHP  Public Employee Health Program
•    This is an employee reimbursed exercise plan where employees of companies covered by PEHP can receive fitness membership dues re-imbursement by compliance and demonstration of fitness level improvement coupled with consistent demonstration of facility visits.
     •    Ongoing Care Program
•    Upon completion of your therapy you will have the option to participate in our Ongoing Care Program. This program includes a complimentary 60-minute session with one of our certified personal trainers who will assist you in creating a health plan under the supervision of your Physical Therapist to maintain your wellness needs. You will also be eligible for corporate membership rates at the health club.
Interested in scheduling an appointment or finding out more information about Fit Stop Physical Therapy? Send us an email at FitStopPhysicalTherapy@gmail.com and someone will get back with you promptly.