SPECIALIZED CARE AND TREATMENT
Physical therapy is the treatment of physical dysfunction or injury for all ages. Treatment is implemented through the use of stretching and therapeutic exercise; manual therapy such as joint mobilization, joint manipulation, and deep tissue massage; and by the use of modalities such as electrotherapy, traction, application of heat and ice, and other techniques. These approaches enable us to improve healing and restore normal function or development. Our ultimate goal with physical therapy is to enable you to enjoy an active lifestyle free from pain and also gain knowledge necessary to prevent re-injury.
At the Fit Stop Physical Therapy we use the latest research and most effective techniques to provide our patients the professional care they deserve.  Our focus is on the treating the cause of the pain rather than just the symptoms in order to deliver quality treatment and rehabilitation to every patient. We are committed to providing wellness solutions to all individuals in our community, together with the best possible resources for them to achieve their fitness goals.
Physical therapists provide care for more than 750,000 people every day in the United States. At the Fit Stop we provide evaluation and treatment utilizing special programs for:
•    Accident victims
•    Workplace injuries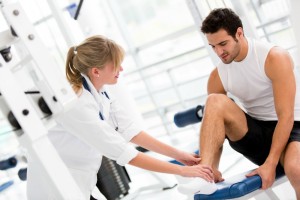 •    Children's neurological or orthopedic disabilities
•    Disabling conditions
•    Chronic health conditions
•    Disabilities and disability education
•    Specific medical conditions
•    Surgery candidates
•    Providing second opinions and injury assessment
•    Sports-specific training programs
•    Improved muscle strength and balance
•    Prevention of injury and improved quality of life
TREATMENTS
We offer a full range of pain management and rehabilitative treatments and services including:
Therapeutic Massage
Joint Mobilization
Stretching
Core Strengthening
Joint Stabilization
Restorative Exercises
Resisted Exercises
Cryogenic Therapy
Electrical Stimulation
Traction
Vasopneumatic Compression
Therapeutic Taping
SPECIAL PROGRAMS
In conjunction with The Fit Stop Health Club, our Physical Therapists direct and participate in several exceptional programs each year, and are always prepared to educate on a diverse range of motivating topics. For dates and times of upcoming programs, seminars, and events, please refer to our PT Blog news feed.