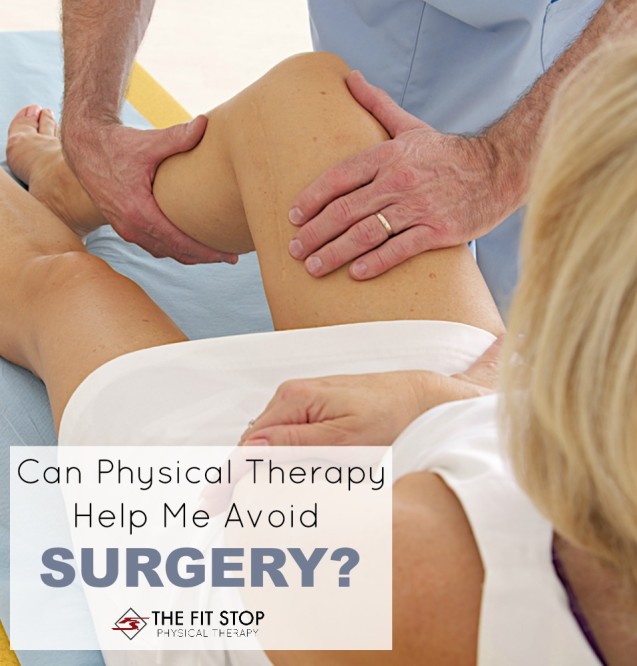 As physical therapists we frequently see patients who are recovering from some kind of surgery. Knees, hips, shoulders, backs, and necks are among the most popular post-surgery issues that we work with. In the United States joint related surgeries are increasing at a rapid rate.  For example, according to the Center for Disease Control (CDC), in the USA between the years 2000-2010, total knee replacement surgery (TKA) rates doubled.  In fact, the TKA is the most common inpatient surgery being performed nowadays.  From shoulder surgery (which is the most common in our clinics), to knee and back surgery, there certainly is a time and place for these surgeries.  However, the cost, time away from work for recovery, and risk associated with these surgeries is significant, and I often remind my patients of these factors when considering surgery.  Most of the time, my patients seem pleased with the outcome of their surgery.  However, as the obviously biased PT that I am, I often wonder – could this surgery have been avoided using conservative physical therapy?  Well today, I am going to answer that question.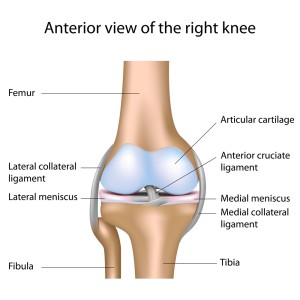 Over the past few months in my posts I have cited a couple of studies related to different injuries that give some support for the nonsurgical route.  These address multiple issues including back pain related to stenosis and shoulder pain related to rotator cuff tears. For today's discussion about avoiding surgery I would like to turn the attention to the most common surgery performed in the US – those in the knee joint.  The knee joint is a pretty straight forward hinge joint where the femur and the tibia meet and a knee cap over the top.  Ligaments and cartilage help keep the knee joint stable and healthy, but sometimes they can get damaged.  In fact, the cartilage spacer between the femur and the tibia (meniscus) is commonly torn, and very commonly, surgery is performed on a torn meniscus.  However, should it be the first approach when a diagnosis of torn meniscus is made, or should it even be an approach considered at all?  Let's take a look at some recent research, and of course, my opinion as we discuss this question.
In 2013 the New England Journal of Medicine (NEJM) published a study that, according to the American Physical Therapy Association (APTA), "should encourage many health care providers to reconsider their practices in the management of this common injury (meniscus tear)".  The study compared two different approaches to the treatment of the diagnosis of meniscus tear, with combined mild to moderate osteoarthritis (OA): standardized physical therapy alone or arthroscopic meniscectomy surgery.  A meniscectomy is when a surgeon uses a scope to remove the damaged meniscus material.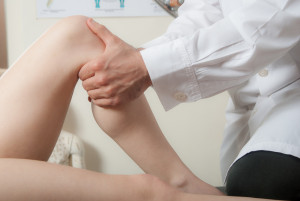 Because the meniscus has poor blood supply and doesn't heal well, the surgical option is to remove the damaged portion.  345 people over the age of 45 participated in the study and were followed over 12 months.  The study concluded that there were no significant differences between the two groups at 6 and 12 month follow-ups, in regards to functional status and pain.  Another study in 2014 from the American Journal of Physical Medicine and Rehabilitation, again compared the two different approaches with the same meniscus damage and mild OA.  This time, the follow-up was 3 months.  There was no difference between the two groups in regards to performance (knee bends, hop testing) or self reported measures of function/pain.  However, there was a significant improvement in knee strength, by a measure of 16%, favoring the 12 week physical therapy group.  Researches in this study report that, "their findings are statistically significant enough to support the role of exercise therapy for patients with degenerative meniscus tear."
Now time for my opinion.  There is just something that doesn't sit right with me when it comes to surgically removing cartilage from a joint.  We need cartilage to provide cushioning for our joints, and by removing that cushion, we are only hastening the aging process, especially in the case of a degenerative tear as has been studied.  Now it is important to recognize that there are always varying degrees of tears, and the tears used in these studies are classified as degenerative tears, meaning they have come with wear and tear over time.  A tear that comes with some sort of traumatic event which results in significant, painful, consistent locking or clicking of the knee joint may be a different story.  However, even in these scenarios, and especially in regards to degenerative tears, I would wholeheartedly agree with these studies – the first line of treatment should always be physical therapy.  From my experience, most things clear up pretty well and in a timely manner with the aide of physical therapy interventions.  See our blog post, How Can Physical Therapy Help My Condition, for a discussion of how physical therapy can help your condition, and don't hesitate to contact us at your convenient Fit Stop location with any questions.  The answer to the question, "Can Physical Therapy help me avoid surgery?", is a resounding, YES!!!
Interested in learning more? We would love to hear from you!
Contact us at one of our four convenient PT offices:
Toby Bluth, PT, DPT
Fit Stop Physical Therapy – Heber City
345 West 600 South Suite 200
Heber City, UT 84032
(435) 654-5607