Approximately 60% of all Physical Therapy visits nation-wide are for the treatment of low-back or neck pain.  This means we see A LOT of patients with back pain in our Fit Stop clinics.  It also means that physical therapists are leaders in the field of best treatment options for the management of your low back pain. Today Cameron Garber, PT, DPT is sharing some of the best exercises you can do at home to treat your back pain and get it under control. Keep reading for more!
Caveat to this blog post – not all back pain is treated equally. Different pain is caused by different pathologies and may respond better to a different type of treatment. That being said, in this post we will provide you with incredibly GENERAL ideas of what SHOULD work the best for your back pain. The BEST form of treatment would be to come in to one of our 4 convenient Fit Stop locations and allow us to give you a thorough examination with individualized exercise prescription from one of our specialists.
To access free downloadable versions of all of these exercise programs simply click on the link in the titles or the images found below. All of the home exercise program images generated in this blog post are via www.hep2go.com. They are an amazing website for the production or quality home exercise programs to be used by rehab professionals. Check them out for all your Home Exercise Program needs! And now on with the exercises!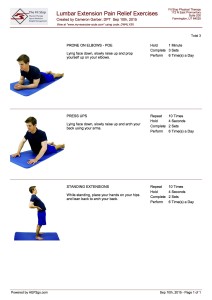 1. Extension-based exercises:  Extension based exercises may help you: If you have pain with prolonged sitting or standing, an onset of pain related to bending, lifting or twisting, difficulty with pain in the morning which lessens with activity but increases with sitting.  If these things describe your pain pattern, try these exercises in our downloadable exercise program.
Prone on elbows
Prone Press Ups
Standing Back Extension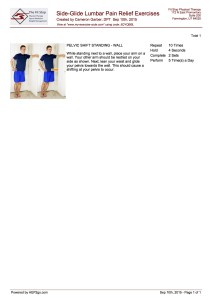 2. Unilateral back pain: If the pain is only on one side of your back you might try this exercise.  Make sure you glide TOWARDS the side of your pain.
Side glides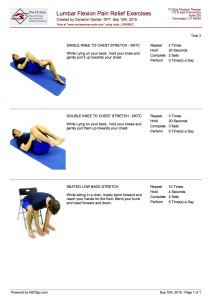 3. Flexion based exercises: These are a little less common, but another pattern of pain which may fit you.  If you have pain with standing or walking which is relieved by sitting or if you are an older adult (>65) or if you have been told you have severe degenerative disk disease or arthritis; you might find these exercise more helpful.
Single knee to chest
Double knees to chest
Forward bending toe touches in a chair.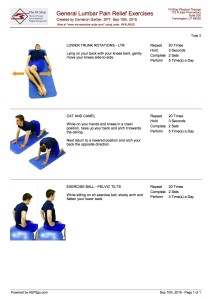 4. General Low Back Pain Exercises:  If these pain patterns don't seem to fit you, or you've tried them and they aren't helping, you might try these approaches first to decrease your overall pain level and sensitivity to larger movements.
Lower Trunk Rotation
Cat Camel Stretch
Anterior/Posterior Pelvic Tilts on Ball
If you are struggling with low back pain it is important you start working on eliminating it quickly.  Try these exercises and see if they help.  You might just find that one of them is the ticket to keeping your pain at bay while your back heals.
If you can't find an exercise which works for you, then it's time to get more aggressive with relieving your symptoms.  Come and see us at Fit Stop Physical Therapy and we can help get you on the right path.  Our experts at Fit Stop will help identify the right plan for getting you better. Contact us at one of our 4 convenient locations by clicking on the link to that clinic below:
Cameron Garber, PT, DPT
Fit Stop – Farmington
172 N East Promontory
Suite 200
Farmington, UT 84025
(801) 558-8612
Fit Stop – Salt Lake City
51 South Main Street
Suite 307
Salt Lake City, UT 84111
(801) 656-2091