Announcing the newest addition to the Fit Stop family!!
At Fit Stop Physical Therapy our main objective is to help you to achieve you goals and fulfill your potential. Our job isn't done until you're completely satisfied with your results. One way we can serve you better is to bring our friendly, professional services a little closer to where you live. We're thrilled to announce our newest physical therapy clinic to serve the south Salt Lake valley! We just completed an all-new, state-of-the-art facility in Murray at
5445 South 900 East
in the Murray Sportsmall!!
Offering a wide variety of treatments to help you recover quickly including:
Soft Tissue Mobilization
Joint Mobilization
Muscular Rehabilitation
Post-Surgery Rehab
Manual Spinal Traction
Neuromuscular Re-Education
Sports Medicine
Sprains and Strains
Strength, Power, and Agility Training
Sprains and Strains
and much, much more!!
We are the most unique physical therapy clinic in the area as we are literally located inside the Murray Sports Mall. You will have access to their full-service, state-of-the-art fitness facility including all the equipment, machines, weights, and resistance bands. This ultimately helps you rehabilitate your injury better, faster, and stronger. At the end of your PT experience you're even offered a discount should you choose to sign up as a member a the Sports Mall.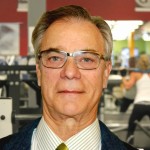 Alan has over 30 years of experience as a physical therapist and enjoys treating and wide variety of orthopedic and neurological issues. He would love to work with you in helping you to achieve your goals and make a full return to your previously-enjoyed activities.
Please give us a call at (801) 971-4404 or email (FitStopPhysicalTherapy@gmail.com) to ask any questions or set up an appointment!
Hours:
M, W, F:  7:00 – 5:00
T, Th: 7:00 – 12:00
Weekends:  Closed
Fit Stop Physical Therapy
5445 South 900 East
Salt Lake City, Utah 84117