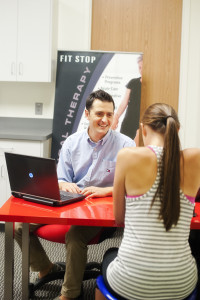 Your metabolism is the measure of how you use food energy as fuel to power your body. Your body requires a constant supply of food (carbs, fats, and proteins) that can be converted in to energy (calories). Your Resting Metabolic Rate (RMR) is the measurement of the amount of calories your body needs each day just to survive in a state of rest. Your RMR can be used to help calculate the limits of how many calories you need to consume daily to stay healthy.
Eating fewer calories than your body requires to preserve its basic function often works to slow down your metabolism. Low calorie "diets" cause your body to respond by decreasing metabolic rate. You also begin catabolizing or eating up muscle tissue during and after exercise as an energy source. High intensity work outs can break down the muscle even faster and cause even more muscle loss. This further robs you of lean muscle tissue and causes your metabolism to drop further.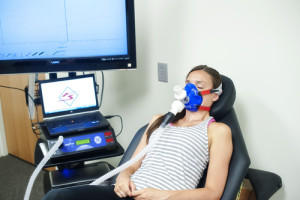 At Metabolic Curve you will have a RMR test to help you determine what your safe lower limit of calorie intake will be, as well as learn what exercise intensities you should work out at to preserve and build lean muscle. Exercise testing or VO2Max testing is performed while being monitored with a specialized calorimeter. This equipment helps to measure the amount oxygen (O2) and carbon dioxide (CO2) you breath in and out. Just as car puts off exhaust after burning fuel, our bodies put off carbon dioxide after burning calories. The measured ratio of O2 and CO2 expired during exercise gives us the information about what type of fuel you are burning. Measuring these values along with heart rate allows us to calculate the heart rate ranges you need to work out in to meet your fitness goals. Whether sports performance or weight loss is your goal, knowing how you burn fats and carbohydrates most effectively will help you to safely and more effectively achieve your goals.
With Metabolic Curve you can stop guessing and know that you are doing the right thing for your metabolism.
Click here to learn more about metabolic testing
Metabolic testing is available 5 days/week at the Farmington location. It is available at the Heber City and Downtown locations by appointment.
To set up your metabolic test please contact Dr Garber at (801) 558-8612 or via email at FitStopPhysicalTherapy@gmail.com